Wachtwoord. 13-06-1975. 123123123. Allemaal voorbeelden van wachtwoorden die nog steeds door veel mensen gebruikt worden, en stuk voor stuk onveilig zijn. Nog erger: meer dan de helft van de Nederlanders gebruikt voor verschillende online diensten hetzelfde wachtwoord. Logisch ook al die sites, apps, fora en social media. Volgens de mannen achter de fysieke wachtwoordkluis Vaulteq moet en kan dat anders.
Fysieke kluis
Iedereen gebruikt wel eens bovenstaande wachtwoorden als ze snel even verplicht moeten registreren voor een willekeurige website of app. Maar ook voor belangrijke websites zoals e-mail, Facebook en overheidsinstanties worden vaak niet-veilige wachtwoorden gebruikt. Frederik Derksen en Tim Gerrits hebben een oplossing bedacht om de controle over ons digitale leven terug te geven: Vaulteq. Het kleine apparaatje is een fysieke kluis die je koppelt aan je router en waarin je je online wachtwoorden veilig in eigen beheer opslaat.
Top global tech PR agencies for startups right now
These are the top global tech PR agencies you should absolutely check out in 2020
These are the top global tech PR agencies you should absolutely check out in 2020
Show Less
Wachtwoordhulp
Waarom zoiets nodig is? Onderzoek laat zien dat bijna de helft van de Nederlanders een veilig wachtwoord (denk veel vreemde, willekeurige tekens) simpelweg niet kan onthouden. Tegelijkertijd maakt slechts zeven procent gebruik van een online wachtwoordhulp. Je kent ze wel; de apps waar je met een wachtwoord toegang krijg tot alle andere.
En daar gaat het volgens Derksen en Gerrits mis: die wachtwoorden worden namelijk ergens in de cloud opgeslagen. Aantrekkelijke prooi dus voor hackers. "Nederlanders zijn eigenlijk heel slordig, laks en zelfs onwetend als het gaat om de veiligheid van hun wachtwoorden," zo zegt Frederik Derksen, CEO van Vaulteq. "Wij brengen onszelf daarmee dagelijks in gevaar, zowel financieel als persoonlijk."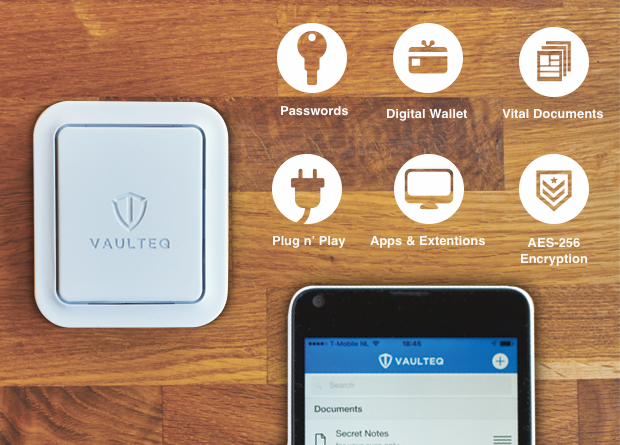 De kluis doet het werk
Volgens Derksen is de Vaulteq een ideale oplossing voor dit probleem. Het is een fysieke digitale kluis waar je al je wachtwoorden kwijt kan, en andere vertrouwelijke data in kan opslaan. Voor iedere online dienst wordt een uniek wachtwoord aangemaakt die je niet hoeft te houden: de kluis doet het werk voor je.
We horen je denken: wat als ik niet thuis ben en toch bij mijn wachtwoord(en) moet? Voor die situatie is het mogelijk om op afstand via een anonieme, beveiligde verbinding toegang te krijgen tot je kluis. Omdat alle informatie versleuteld lokaal wordt opgeslagen, kan niemand er van buitenaf bijkomen.
Crowdfunding
De kluis van Vaulteq gaat 99 dollar kosten. De mannen zijn klaar voor productie, hoewel er nog een kleine investering nodig is van 50.000 dollar om echt te kunnen leveren. En hoe kom je tegenwoordig snel aan geld? Crowdfunding dus. Vaulteq wil in dertig dagen het geld ophalen zodat ze in juli van dit jaar kunnen gaan leveren.